Contact
Inquiries
Please see the following page for inquiries regarding General Undergraduate entrance examinations, Transfer Student Admissions, and Graduate School Admission Examinations.
http://www.tuat.ac.jp/en/admission/index.html
* Please contact the supervising professor to whom you are applying regarding issues such as laboratory assignments and research topics
* Contacts for teaching staff can be found by clicking faculty names on the introductory pages for each laboratory.
Tel:+81-042-388-7155, e-mail:s-jimu[at]cc.tuat.ac.jp
For other questions or inquiries regarding the Department of Computer and Information Sciences, please contact the Computer and Information Sciences Office.
Tel: +81-042-388-7155, e-mail: s-jimu[at]cc.tuat.ac.jp
Research Inquiries
For inquiries including research collaboration and technical consultation, please contact the relevant faculty directly. Contact details can be found by clicking faculty names on introductory pages for each laboratory.
Inquiries regarding departments and divisions
For inquiries regarding divisions and others, please contact the Computer and Information Sciences Office.
Tel:+81-042-388-7155, e-mail:s-jimu[at]cc.tuat.ac.jp
Access
Department of Computre and Information Sciences, Tokyo University of Agriculture and Technology
Address: 2-24-16 Naka-cho, Koganei-shi, Tokyo 184-8588
Take the JR Chuo Line from Tokyo Station (Rapid-service Train) to Higashi-Koganei Station: 37 minutes. Walk about 6 minutes to campus from nonowa Exit of Higashi-Koganei station.
The Department Office is a first floor in building 7, Koganei-campus.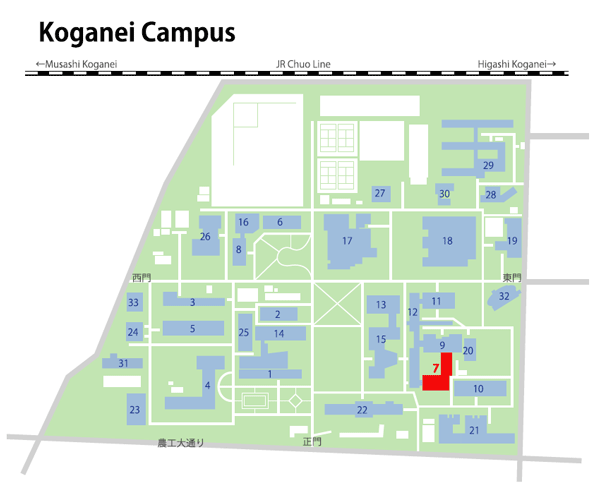 Link for Campus Maps (PDF)
Please see the following page for the access information to Koganei Campus.